The Wizard of Oz Xtranormal is an Xtranormal project created by
Handsomepuppy32
. He decided to make The Wizard of Oz for Xtranormal for his friend's birthday,
Prettykitty32
. He has finished making The Wizard of Oz on Xtranormal and posted them to Youtube.
The Wizard of Oz Xtranormal

Created by

Handsomepuppy32

Parts

52

Completed

June 5 2012

Rating

TV-Y

Status

Completed
Ruby - Dorothy, Girl Munchkins
Peter - Professor Marvel, The Wizard (Good), Voice of the Wizard (Bad)
Thomas Jefferson - The Doorman
Isaac Newton - Cabbie
Napoleon Bonaparte - The Guard
Playgoz Idaho Bones - Hunk
Roscoe - Hickory
George W. Bush - Zeke
Hobo - The Scarecrow
Snowman - The Tin Man
Santa Claus - The Cowardly Lion
Debra - Glinda the Good Witch of the North
Billie - Miss Almira Gulch
Queen Elizabeth II - The Wicked Witch of the West
Doctor Bones - Uncle Henry
Sarah Palin - Auntie Em
Halfpound - Boy Munchkins, Flying Monkeys
Doctor and Nurse - People at the Emerald City
Ninja - Winkies
Wendell and Lisa - Voices of the Apple Trees
Part Chapters
Edit
Dorothy's Dilemma
Over the Rainbow
Miss Gulch
Toto Escapes
Dorothy Runs Away
Crystal-Gazing
"It's a Twister!"
Inside the Cyclone
Not in Kansas Anymore
"Come out, come out"
It Really Was No Miracle
Ding! Dong! The Witch is Dead!
The Lullaby League
The Lollipop Guild
"Who Killed My Sister?"
"What a Smell of Sulfur!"
Follow the Yellow Brick Road
You're Off to See the Wizard
Dorothy Meets the Scarecrow
If I Only Had a Brain
We're Off to See the Wizard
"Apples!"
A man made out of tin!
If I Only Had a Heart
"Wanna play Ball?"
"To Oz? To Oz!"
"Lions and Tigers and Bears, oh, my!"
Meeting the Cowardly Lion
If I Only Had the Nerve
We're Off to See the Wizard
"Poppies will put them to sleep!"
Optimistic Voices
The Emerald City
The Merry Old Land of Oz
Surrender Dorothy!
If I Were King of the Forest
Meeting the Wizard of Oz
The Haunted Forest
Attack of the winged monkeys
Dorothy in Captivity
Toto's escape
March of the Winkies
The rescue
"Seize them!"
"I'm melting!"
"The wicked witch is dead!"
The Wizard revealed
Heroic rewards
The Wizard's balloon
Glinda returns
Dorothy's farewell
"There's no place like home!"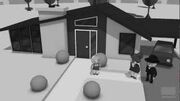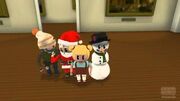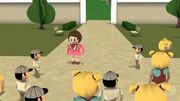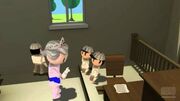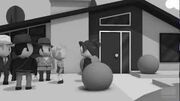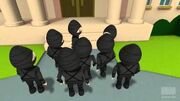 Here is a link to the videos: http://www.youtube.com/playlist?list=PL0AF80FC7F3EFD8C4&feature=plcp Enjoy!
Please read
Edit
The Wizard Of Oz Xtranormal has found it's way to a new Wiki! To see all the information about The Wizard Of Oz Xtranormal please go to this link: http://thewizardofozxtranormal.wikia.com/wiki/Special:WikiActivity.